We are in a journey to our eternal home. This journey, just like a normal hike in this world, has ups and downs. We have to climb hills and slope in the valleys. Thorns and thickets trap us along the way. Wild fruits and pools of water are there to nourish us along the way. In a similar manner is our spiritual journey. The devil lay traps for us, some of which are a counterfeit of the true fountain of Christ. His (devil's) aim is to 'deceive even the very elect.' (Matthew 24:24).
However, Christ has not left us to doom. He is like our Moses in this journey. When we fall, He still bid us 'Come now, let us settle the matter' (Isaiah 1:18 NIV). He knows we are human, He knows we are dust. (Psalms 103:14). Christ has never intended that anyone may perish. He always bid us to come to repentance. (2 Peter 3:9).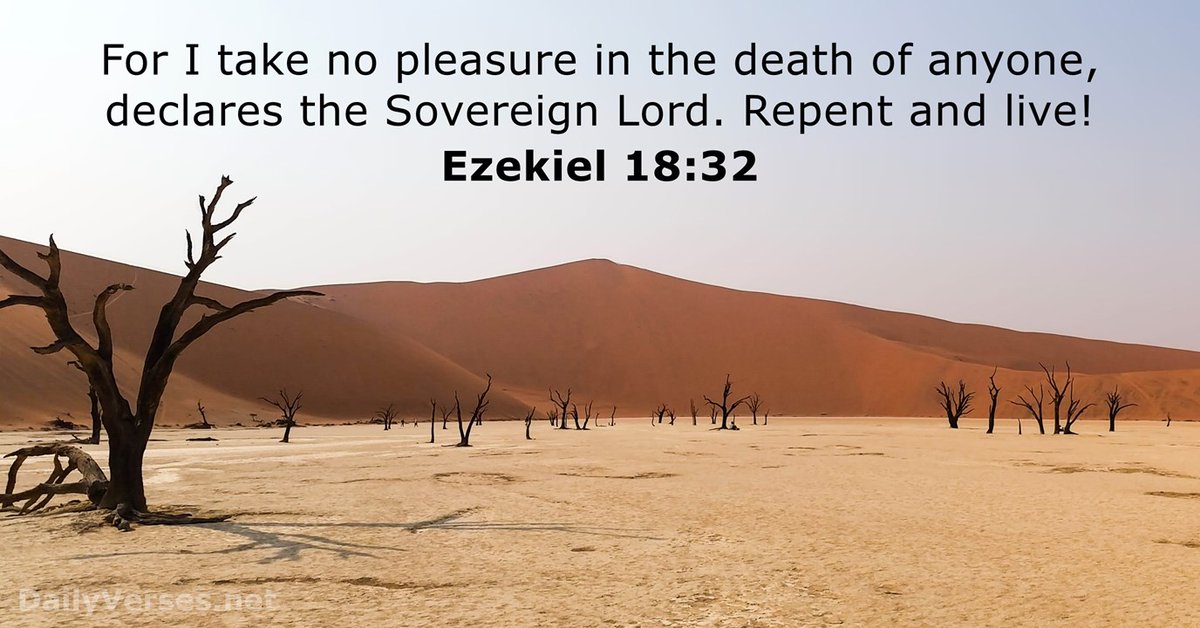 What has always separated us from God is our sins. Only that. Imagine what is blinding you from acknowledging the power of God in your life, is that awful character you still withhold so dearly! Those immoral thoughts that you harbor in your mind; that judgmental attitude, that jealousy, greed, lust, fornication, selfishness, pride, gossip, legalism, unforgiving spirit. These are the very characters that crucified our Savior on the cross. Are you crucifying Christ again? The very harmer that nailed Him to the Cross is that which you hold in your heart.
The Lord would have us awake to our true spiritual condition. He desires that every soul shall humble heart and mind before him. Let humility of soul be cherished, and entire surrender to God be made. Let our churches put away selfishness and pride, and cease to lift up the soul unto vanity. The end is near, and we are to give the message of warning and mercy to the world. And not only are our lips to proclaim this message, but by lives of simplicity and meekness and right-doing we are to reveal that we believe the truths of the Word of God. (RH August 5, 1909, par 10,11)
For this reason, KUSDA Church, through the power of the Holy Spirit, has organized a whole week of Spiritual Emphasis from 4-10th July,2021 from 6-8 pm at KUSDA Church, in which the servant of God, Pr. Kennedy Sifune will spend the entire week delivering the Lord's message under the title: The Gospel of a Second Chance. The message from the book of Psalms 51:10-12 will be the the plea of every individual: 10 Create in me a clean heart, O God; and renew a right spirit within me. 11 Cast me not away from thy presence; and take not thy holy spirit from me. 12 Restore unto me the joy of thy salvation; and uphold me with thy free spirit. And all will be willing to be near the cross according to the SDAH 312: Near The Cross, which will be the theme song.
If it is your wish that Christ may renew your spiritual strength and rekindle your identity in Him, kindly purpose to attend this event and take it upon yourself to ask God for rebaptism of the Holy Spirit. For the rest of us who will not be in a position to attend the physical event at KUSDA Church, kindly don't feel left behind. We have the KUSDA YouTube Channel where all the presentations will be streamed live, at your convenience. May God bless you as you purpose in your heart to heed to the voice of our Savior and Lord, Jesus Christ. Amen.